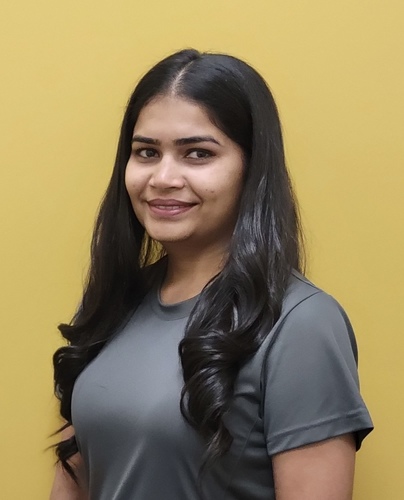 Kinjal has completed her Bachelor of Physiotherapy following a Health, Wellness and Fitness course. After completing her studies, she moved to Canada, using her skills to help people improve their well-being. She has been a part of the fitness industry for over 10 years, first as a group fitness instructor and then as a Physiotherapist. She has worked in various long-term care in the past and is constantly exploring new physical pursuits herself. Since graduating, she has gained a wealth of knowledge that has sharpened her key skills, allowing her to become more efficient as a therapist. Ask her if she's tried something: she probably has at least once, and if she hasn't she will want to!

Kinjal believes that movement is essential, not only for successful recovery from injury but for future injury prevention and for overall quality of life. She is passionate about getting her patients back to doing what they love! Along with her effective mobilization skills and hands-on approach, her patients feel empowered to be active participants in their rehabilitation, and thoroughly enjoy working toward their goals with Kinjal. You can count on your physio sessions with her to be educational and exercise-focused, supplemented with targeted manual therapy and hands on treatment. She strives on continual growth and to always enhance her clinical knowledge, skills and expertise in the field of Pelvic Floor Physiotherapy and Sports Rehabilitation.

Kinjal continues to pursue her love for knowledge by taking many postgraduate courses that help her to assist people to achieve better health. Dedicated to continuing her education and evolving her skills, Kinjal consistently strives to evolve her practice by merging the most current, evidence-based literature with a holistic approach. She is excited about her work and takes pride in connecting with her patients as they embark on their healing journeys.

Kinjal continues to enjoy the benefits of an active lifestyle and believes that this is the single most important thing anyone can do to live a more vibrant and adventurous life. When she's not in the clinic you'll find her in the mountains exploring and hiking. She also loves reading and painting in her spare time.